LIVING IN FALLS CHURCH— FAIRFAX COUNTY, VA
Living Near The City of Falls Church, VA
Learn About School Systems, Education, & Culture That Our Local Community Holds So Much Pride In.
A new and unfamiliar community can be uneasy, but doing your research makes it exciting!
There are many different reasons that make people change the place living in such as the size of the current home, increasing crime rate in the area, commuting time spent to work, conditions of the house, etc. No matter what the reason is moving your home might mean that it will be a tough process. However, if you consider your options wisely and make the right decision, you will easily adapt into your new living space.
According to brand new researches in the Virginia real estate market, people are more likely to move their houses in order to live in a neighborhood with better education even if they don't have children. Especially parents with younger children or teenagers have started to sacrifice their time on commuting to secure a good education for their children which also means a secured future. In today's America, education is an essential key in order to stand out in the crowd of job applicants who are willing to land a job that make difference. Virginia State real estate market offers variety of options for families who are looking to move their home into an area with great education system. In this article, we are looking to provide you with information on areas that stand out with their Homes for Sale by School District.
Virginia Department of Education has provided an annual report showing the increasing quality of the educational system in Virginia State. According to the report, Virginia State Schools have shown increase in every subject (reading, math, science, and social studies) and the Virginia`s average have passed the American Average. Here are some graphs by Virginia Department of Education showing the improvement in the level of education in Virginia State.
In case if you are taking education seriously, the primary real estate market that needs to be considered is Fairfax County Homes for Sale as it is the largest real estate market with unlimited options and offers large scale of school options. Let's look into Fairfax County Real Estate Market in general and identify the possible benefits of the location.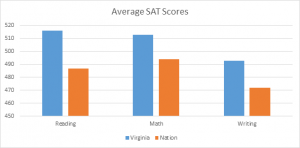 FAIRFAX COUNTY, VIRGINIA
Fairfax County is the largest region in the state of Virginia with its population over one million which is close to fifteen percent of the whole state. The most characteristic features of Fairfax County is being conveniently located to major areas such as Washington DC and being highly focused on educational system. It is rated as one of the best places to live in America and even called as the Silicon Valley East. These benefits of the area turns the region into the top real estate market in Virginia. The increasing value of the Fairfax County Real Estate is not only directing residential real estate but also commercial real estate as we can identify from the number of Fortune 500 companies moving their headquarters into the area. Even more, Fairfax County is being home to the Central Intelligence Agency and the Department of Homeland Security.
The school system is served by the Fairfax County Public Schools system with the fifty-two percent of the fiscal budget which shows the importance put into the educational system by officials. Education level is highly critical for locals so that the region has become very popular among families who are looking to into Homes for sale by school district. There are many options for both elementary and high school education levels. Wakefield Forest Elementary School in Fairfax has been listed in top 20 elementary schools which also has many options available for families who consider moving their homes to provide better education for their younger children.
Has your children already finished elementary school and looking for an amazing high school?
Fairfax Homes for Sale will still satisfy your needs with great option which is Virginia Governor`s School, the Thomas Jefferson High School for Science and Technology. The school has been constantly listed on top of all United States high schools for its success. According to US News, Thomas Jefferson High School has been ranked #5 in National Rankings. There are many more schools available in the area in order to meet the demand for families who are seeking better educational system.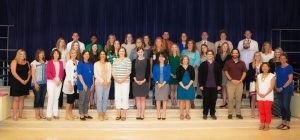 In general, Fairfax County Homes for Sale will be highly efficient on meeting your requirements in every aspect of real estate, however your options are not limited to that. In the following part of this article, we will try to guide you with more information on specific locations offers numerous options on both education and real estate.
FALLS CHURCH CITY, VA
The City of Falls Church, or Falls Church City, can be considered a small neighborhood located in Virginia State with its population which is nearly fourteen thousand. The area is also called City of Falls Church by the local people. Local people are mostly employed in the white-collar jobs which is a very important determinant for the increasing value of the Falls Church Homes.
City of Falls Church is served by Amarica's best school districts can almost be considered as an independent school system in itself. There are number of options to decide from while searching for your next home near Falls Church, VA including Jessie Tackrey Preschool, Thomas Jefferson Elementary School in the area. Especially, Haycock Elementary school must be evaluated among your options as it is listed in the top 20 elementary school ranking.
In terms of high school education, Falls Church is certainly one of the top rated in Virginia State. According to US News High School Rankings; George Mason High School is rated #4 in Virginia and a Gold Medal Awarded High School. Families with teenage children should look into this area for the assurance of college readiness of their children.
Additionally, Falls Church City is also known as an artist city due to high population of artist in the region creating higher demand for the Luxury Homes in Falls Church City VA. Even though City of Falls Church Real Estate is not rated as the most expensive in the Virginia State but it's listed in the most expensive American Real Estate Markets.
NEIGHBORHOODS
Bel Air / Sleepy Hollow Falls Of Church, VA
Bel Air / Sleepy Hollow is a suburban neighborhood located in Falls Church, Virginia having one of the most expensive real estate market in the region. The number one reason is that the vacancy in Bel Air / Sleepy Hollow Falls Church is much higher in comparison to the demand from the real estate buyers. In the region, local people mostly have high income which pushes Bel Air / Sleepy Hollow Real Estate to be well-maintained in order to meet the requirements of educational needs of families with children living in the area.
According to the parents who have their children study in Bel Air Elementary School, management is excellent and the school has amazing system for children to catch up with classes on the weekend. Even though finding a Bel Air Home for Sale could be tough due to high demand in the area, parents need to look into their options of Homes for sale by School District.
Westlawn / Annalee Heights Of Falls Church, VA
Westlawn / Annalee Heights is moderate neighborhood located in Falls Church Virginia. According to various studies, the area is ranked as one of the best choices for college students to reside. In the area, the life is parallel with the college semesters and it is very secured place for residents. The characteristics of the Westlawn / Annalee Heights, VA Real Estate Market is rare with its single-family and stand-alone homes.
Even though the Westlawn / Annalee Heights area mostly chosen by college students, families also choose to live in one of the communities many areas secluded from college students that maintain a good educational system. The feeling of the area has been controlled by the college students so that the education carries on good vibes. Especially parents love the interaction between school and parents in Westlawn Elementary School more so there are number of different options available for Westlawn / Annalee Heights Residents.
Day by day, educational system is becoming much more important in the developed countries causing higher investment in schools. This movement results with the increase on the prices of commercial stores and residential homes in the nearby areas. Authorities state the importance of choosing your living space close to institution with high educational standard will provide unique benefits in the long run in every single aspect.
The State of Virginia holds some of the best options across all of America from the educational perspective of home buyers. Especially, new generation first-time home buyers hold special reservation when searching homes for sale by school district. In order to find the best option meeting your whole requirements, you should definitely take some help from a professional and narrow down the available options. Within the options left, you can hit the target on point.
The following neighborhoods also offer a healthy real estate market while also being conveniently located nearby schools that are highly regarded for their level of academic excellence; All of which are located within the Falls Church region.
Jefferson Village / Greenway Downs Of Falls Church, VA
Jefferson Village / Greenway Downs regions are relatively old-fashioned regions in comparison to the rest of the Falls Church, VA areas. Most of the Real Estate in Jefferson Village / Greenway Downs are built between 1970 and 1999 so that the prices are lower than its neighbors. As the neighborhood homes are built in the past, the characteristic of homes for sale in Jefferson Village / Greenway Downs is particular with its old-fashioned style.
Holmes Run / Broyhill Park Falls Church, VA
Holmes Run / Broyhill Park is a suburban neighborhood located in Falls Church Virginia State. Most of the residential units are vacant by their owners. Similar to Jefferson Village / Greenway Downs real estate, Homes for sale in Holmes Run / Broyhill Park Real Estate are mostly built before 2000`s which is considered as old-fashioned. New developments in the Holmes Run / Broyhill Park Real Estate Market are moderately higher than the older units in the region. Most of the residential units in the region are larger than three bedrooms which is basically the characteristic in the market.
Merrifield Falls Church, VA
Merrifield is a neighborhood in Falls Church, VA that has more focus on the units smaller than three bedroom apartments which means it has different characteristics than its neighbor locations. Residences in the Merrifield Real Estate Market is built after 2000`s showing that the area has a unique style in terms of the demand for real estate investors. Most of the Real Estate in Merrifield is occupied by its owners and renters.
Dunn Loring Falls Church, VA
Dunn Loring is an older neighborhood located in Vienna, Virginia with its mid-sized to larger residential units in the Virginia real estate market. There is a great harmony of older building and newly built residences in the region providing a wide array of options for real estate buyers in Virginia. There is a great diversity in the region as you can even see multiple languages in the store signs.
Most of the locals are employed in the white-collar workforce which increases the value of the real estate market in Dunn Loring.